SHIPPING & RETURNS
If you do not fill out the return form below, your package will be refused.
Returns Policy
80%: All sales of 80% receivers are FINAL due to new federal regulations concerning firearm classification.
Serialized: Our serialized products are covered by our lifetime guaranteed replacement policy.
First 60 Days
If you are not happy with any of our serialized products, you may return it for a full refund minus shipping and/or return fees on behalf of TNARMSCO, if purchased directly through our web-store. Our refund policy does not extend to cover fees accrued by the customer from local, state, or federal agencies or businesses. If you are wanting a full refund of purchasing price minus shipping fees, we must have all parts back that were sent.
After 60 Days
Store credit or replacement of the product(s) will be only options available and must be purchased directly through our web-store. All states besides CA, lowers can be sent straight from customers to us, and replacements are sent straight back to customer's address with signature required.
California Residents
Due to changes in CA laws, Tennessee Arms Company will have to send all replacements to an FFL holder. Tennessee Arms will not be responsible for any fees incurred during the replacement process. Our policy does not extend to cover fees accrued by the customer from local, state, or federal agencies or businesses.
Tennessee Arms Company LLC asks that our customers do not dry-fire any of our products. We believe this to be blatant misuse of the firearm, and may void your warranty.
Return Address
TAC-RETURNS
708 EAST COURT ST
DYERSBURG TN 38024
All questions regarding returned items or replacements can be emailed to [email protected].
Please fill out the form listed below & include it with your shipment back to us. Items sent back without this form will not be processed. Return requests sent without a completed Return Form will be refused.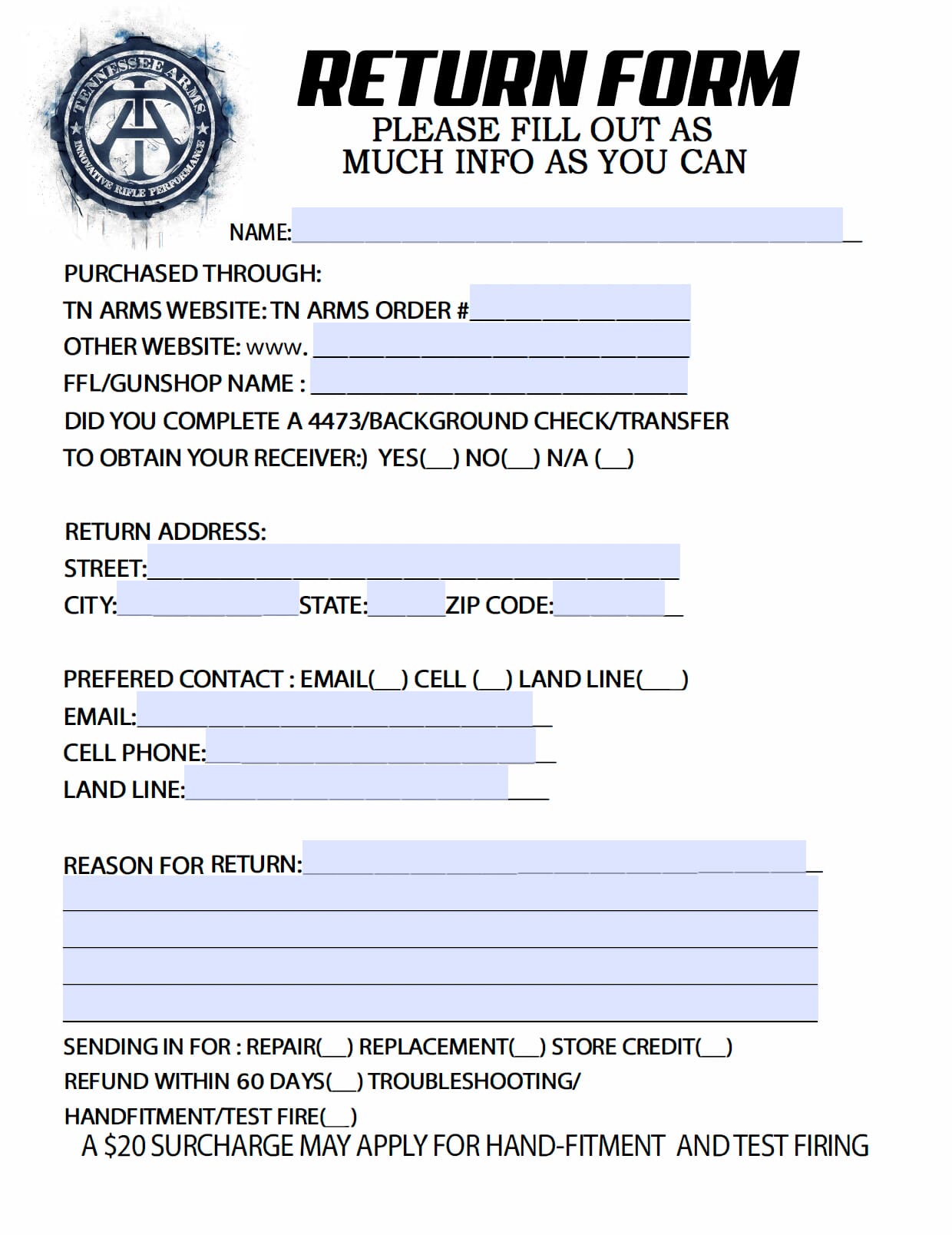 Shipping
Our shipping policy is only within the United States for all weapons and accessories. As some of our products are restricted or require licensing in some areas and or states it is your responsibility to ensure you are in full compliance with the law. By placing your order with us you are guaranteeing that you are legally able to purchase and own the product you ordered in the area you are shipping it into.
All Shipping is flat rate and included with the item purchase on check out.
All Receivers Sales must be shipped to a current Federal Firearms License holder legally able to transfer it to you. Please include the FFL you would like for us to contact to transfer your receiver. All other products we sell can be shipped to you directly.